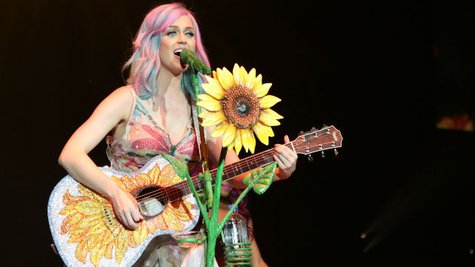 While Katy Perry keeps up a tour schedule would probably leave a 16-year-old winded, she'll be turning 30 this October. But the singer says she still feels like a kid.
"I still feel 13 on the inside," she tells People magazine in its new issue. "I think you see a lot of my [inner] child in the show onstage. I tweeted the other day, 'Sometimes it's hard being a child in this adult body.'"
Katy, who will have a break to celebrate her birthday in between concerts in Mexico and Australia, tells People she plans to mark her milestone in style. "Birthdays are a big thing for me. We always have a themed party," she explains. "It's a good excuse for me to bring my friends together and go buck wild." But the singer also says that she has some serious goals for the next decade of her life.
"I just want to be able to continue to stay self-aware and as unaffected as possible," she says. "I just want to stay authentic and keep dreaming my dreams."
In other Katy news, on Tuesday, she tweeted that she would personally "offer up a kiss" to each member of the U.S. soccer team if they beat Belgium in the World Cup match. When the team lost, she tweeted a bunch of sad-faced emoticons, and added, "Maybe no one told them about the kiss?"
Follow @ABCNewsRadio
Copyright 2014 ABC News Radio