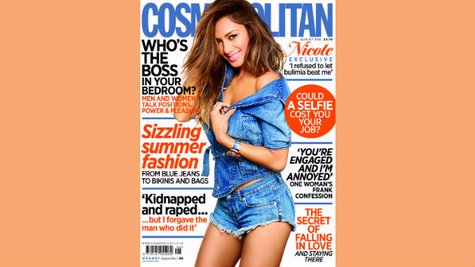 Nicole Scherzinger's been out of the spotlight in the U.S. for a bit, but in the U.K., she's been much more visible, thanks to her recently-concluded stint a judge on the British version of X Factor , and her romance with British Formula 1 racer Lewis Hamilton . But in the new issue of Cosmopolitan's British edition, the former Pussycat Doll opens up about her struggle with an eating disorder that she says left her "broken."
In the magazine's cover story for August , Nicole, who just turned 36, reveals that in her twenties, she suffered from bulimia. "It is such a horrible paralyzing disease and it was such a dark time for me. That's why I can empathize so much with people who have demons and voices in their heads, who aren't nice to themselves," she tells Cosmo . "It robs you of living your life. But you can recover and you can get rid of it forever. I did it and that's why it's so important for me to share my story."
"I felt so alone... but I made myself so alone. You hide it from the world, you isolate yourself," Nicole adds, recalling the moment when she hit rock bottom and knew she had to get help. "I had started losing my voice, I couldn't sing at shows, and then I remember my manager finding me passed out on the floor in Malta or in the south of France. I thought, 'I'm going to lose everything I love if I don't love myself.'"
"It's sad to see how I wasted my life. I had such a great life on the outside, the Dolls were on top of the world but I was miserable on the inside," Nicole reveals. "I'm never letting that happen again; you only get one life -- I was 27 only once."
In the magazine, Nicole also talks about her relationship with Hamilton: the two recently marked their sixth anniversary as a couple, even though she's based in L.A. and he's in Europe. "Relationships are hard and having to hold a long-distance relationship is even harder. It's kudos to us for growing and trying -- there's so much love there," she says. "It's just the distance, it's not natural for anyone. But I'm good and I'm happy."
You can read the entire interview with Nicole in the August issue of British Cosmopolitan, which goes on sale July 3, both on newsstands and digitally. Visit Cosmopolitan.co.uk/scherzy for more.
Follow @ABCNewsRadio
Copyright 2014 ABC News Radio