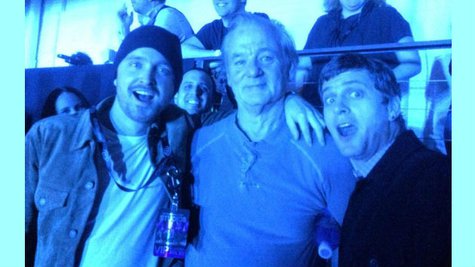 What did Rob Thomas do on Thursday night? Oh, not much -- just chilled out at a rock concert with Bill Murray and Breaking Bad star Aaron Paul .
All three men were in New York City for pre-Super Bowl festivities, and one of those events was a concert featuring rockers Kings of Leon . Paul, who played Jesse on Breaking Bad , spotted Bill Murray standing in front of him and tweeted, "What should I do? Kiss him? Tackle him? Confess my love?"
Evidently, Paul must've said something to the veteran comic actor, because the next thing you know, Rob posted a photo of himself, Paul and Murray, all standing together at the concert. "Yes. This happened," was the caption.
A very jealous Chris Daughtry , who's a friend of Rob's and a massive Breaking Bad fan, saw the picture and tweeted , "I hate you." To which Rob replied, "Don't hate the player. Hate the guy who's friends with #billmurray." "Hahaha! You're a king my friend," Chris answered .
Copyright 2014 ABC News Radio