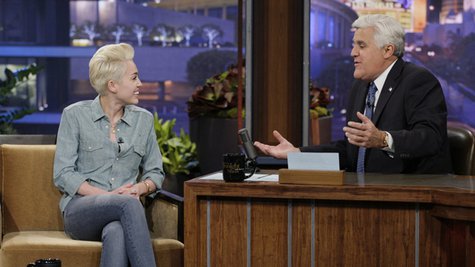 On Thursday night's installment of The Tonight Show with Jay Leno , Miley Cyrus had some advice for Justin Bieber in light of his recent troubles: stay home.
"I would just say, you know what, you've got a lot of money, pay people to make sure you don't get in trouble," Cyrus said. "And party at your house. Buy a house, and add a club to it," she added to much applause.
For all the headlines Miley's made in the past few years, she pointed out that she draws the line between having fun and breaking the law. "I get the most flak of anybody...But I'm not doing anything illegal....So that's all right."
Miley also talked about her MTV Unplugged show this week, which featured her singing with Madonna . Miley called the moment a "dream come true." She said of the Material Girl, "[S]he definitely was an inspiration for me of just not being afraid. It was nice to, you know, share the stage with someone that I knew I could get away with a lot. She wasn't scared of me."
And as for her upcoming tour, Miley says she can't wait to get on her bus to visit the 38 cities on the schedule. "[N]o one else really...gets as excited as I do to go on a bus...I guess because...I was brought up being on a tour bus with my dad, I love it." And, Miley adds, "And it's fun to, like, trap people: all my friends are stuck for like 30 hours in a little confined place."

Miley launches her Bangerz tour February 14 in Vancouver, Canada.
Copyright 2014 ABC News Radio