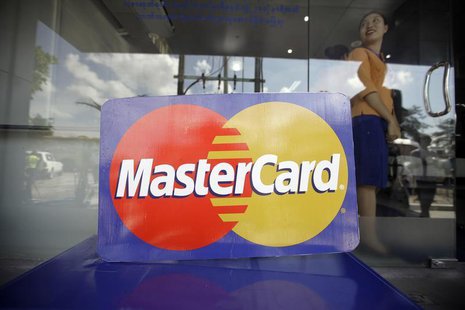 (Reuters) - MasterCard Inc , the world's No.2 credit and debit card company, reported a 3 percent rise in quarterly profit but missed analysts' average forecast as expenses rose.
MasterCard shares were down 7 percent at $74.29 before the bell.
Total operating expenses were up 21.1 percent at $1.21 billion as the company set aside $95 million for litigation settlements.
The company said it also saw an increase in rebates and incentives it offers to customers as it signs up new business.
Visa Inc and MasterCard settled a $5.7 billion class-action suit in December with merchants over card fees after merchants accused the companies of fixing fees charged to merchants when customers used their credit or debit cards.
The companies were accused also of preventing merchants from steering customers to cheaper forms of payments.
MasterCard's net income rose to $623 million, or 52 cents per share, in the fourth quarter, from $605 million, or 49 cents per share, a year earlier.
Adjusted earnings were 57 cents per share, below the average analyst estimate of 60 cents.
Net revenue rose 12 percent to $2.13 billion. Analysts on average had expected $2.14 billion, according to Thomson Reuters
I/B/E/S.
MasterCard's worldwide purchase volume increased 11 percent to $805 billion from a year earlier, while annual growth in its U.S. purchase volumes rose 7.4 percent to $275 billion.
Shares of MasterCard have risen 66 percent in the 12 months ended December, outperforming the broader S&P 500 Index <.SPX> which rose 30 percent in the year.
(Reporting by Tanya Agrawal in Bangalore; Editing by Maju Samuel)