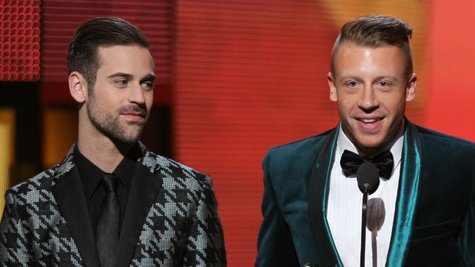 Fresh from their Grammy victory, Macklemore & Ryan Lewis are setting up shop in Vegas. The duo has booked a mini-residency at the the Wynn Resorts Encore Beach Club and the Surrender Nightclub which will feature them performing on-and-off throughout the year.
In addition, Ryan will appear at Surrender solo, doing DJ sets throughout the year. The first one will take place on Saturday, but he's also booked to spin there on May 23, July 2 and July 26.
As for the duo, who will be the first contemporary rap group to have such a residency, they'll perform at Surrender on May 25, at the Beach Club on July 4 and at Surrender again on September 13.
Right now, though, Macklemore is headed for colder climes: the New York City area, to cheer on his Seattle Seahawks in Sunday's Super Bowl. On Thursday, the rapper posted on Instagram a photo of himself on what he said was the Seahawks plane "headed to NYC." Of course, the players have been in New York for the past week, so it's not clear when the picture was taken.
Macklemore & Ryan Lewis performed during halftime at the Seahawks' championship game earlier this month. According to People magazine, the team plays the duo's hit "Can't Hold Us" after every touchdown.
Copyright 2014 ABC News Radio