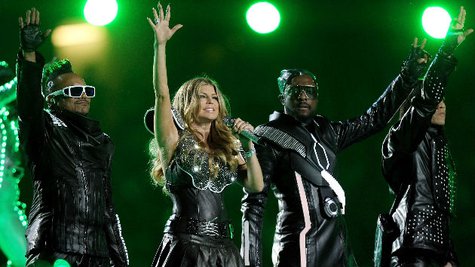 Bruno Mars is set to rock the Super Bowl halftime show on Sunday, and while he told reporters on Thursday that he's not scared about the prospect of performing for all those people, that doesn't mean he wouldn't benefit from some friendly advice from an act who's been there, done that: the Black Eyed Peas .
The Peas provided the halftime entertainment for the game in 2011, and it marked the first time that a younger pop act had been tapped to do the honors since 2004's infamous "Nipplegate" incident, in which Justin Timberlake and Janet Jackson gave us the term "wardrobe malfunction." While the Peas didn't have any problems with that when they performed, they were heavily criticized for the bad sound during their set. Group member Taboo 's still a bit bitter about that, and he doesn't want Bruno to have the same problem.
"Just don't let the sound cut out," Taboo tells ABC News Radio when asked what advice he could offer Bruno. "Because then you'll get backlash from everyone, like 'Oh, this is horrible! It's the sound, it was despicable!' Like, come on dude, really? The sound? What about the lights and all the the great energy that we put on?"
But overall, Taboo says he thinks Bruno was a great choice by the NFL for this year's game. "I'm a big Bruno Mars fan, I've been championing him for many years. Even before the success," he tells ABC News Radio. "I'm glad they chose him because he's the ultimate performer, musician, singer, and I'm very happy for him."
Taboo's band mate Fergie agrees, saying, "He needs no advice from me on performing. That man is amazing. I love Bruno. I've met him. I met his mother. Ah, that's what he was born to do, is perform." But she does have some advice for him in general.
"Have fun out there and just take in the moment. It's a once-in-a-lifetime thing," she tells ABC News Radio. "So instead of getting nervous about it, go out there and enjoy it."
Fergie also notes that Bruno could be feeling a lot of pressure, since he's a solo artist, with the spotlight all on him; she, on the other hand, did the Super Bowl as part of a group. But she's convinced, she says, that "he's gonna bring it."
As for dealing with the cold in New Jersey on Sunday, Fergie laughs, "February in New Jersey. Wow! That's gonna be a great crowd. I think New Jersey will get a few beers in their system!"
Copyright 2014 ABC News Radio