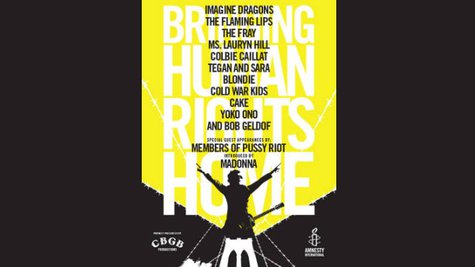 Madonna was very vocal in her support of jailed Russian female punk collective Pussy Riot , and now that its members are out of prison, she continues to support them. She'll introduce two of the collective's members at an Amnesty International concert event February 5 in Brooklyn, NY.
As previously reported, the lineup for the concert, called Bringing Human Rights Home, includes Colbie Caillat , The Fray , Imagine Dragons and Lauryn Hill , among other acts. Madonna said in a statement on her website, "I am honored to introduce my fellow freedom fighters Masha and Nadya from Pussy Riot. I have admired their courage and have long supported their commitment and the sacrifices they have made in the name of freedom of expression and human rights."
Masha and Nadya were jailed in Russia in 2012 for "hooliganism." Their crime? They had performed what they called a "punk prayer" in a Moscow cathedral as a protest against Russian president Vladimir Putin .
Copyright 2014 ABC News Radio