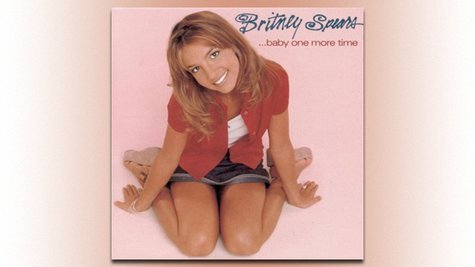 Oh baby, baby, how were we supposed to know that in 2014, Britney Spears would still be on the charts, and marking the 15th anniversary of her very first #1 hit? Yes, it was 15 years ago today that "...Baby One More Time" topped the Billboard Hot 100.
Britney was 17 years old when the song, which was the debut single and title track from her first album, was released in October of 1998. By the time it reached number one on January 30, 1999, she'd turned 18. It went on to earn Britney a Grammy nomination, sell over 10 million copies and, most importantly, redefine the sound of pop music as we know it.
"Because of that sound and because of songs like it, we had this sort of rush of pop music again on the charts, and on the radio where we hadn't really had that in a while," says Keith Caulfield , Associate Director of Charts for Billboard . " Britney was kind of, you know, at the forefront of that parade of pop."
Helping her along was Swedish music mastermind Max Martin , who wrote the song and co-produced it. While he'd previously had success with hits he created for the Backstreet Boys -- who went on to become Britney's partners in the teen pop explosion, along with 'N SYNC and Christina Aguilera -- "...Baby One More Time" was his very first #1 hit. Many more followed.
"Max Martin has gone on to produce and co-write more than a dozen number-one singles on the Billboard Hot 100 chart," explains Caulfield. "[He's] sort of the architect of so many pop hits that we've known and loved for the past 15 years, but that was sort of where it all started."
In fact, Martin co-wrote and co-produced the #1 song in the country today -- Katy Perry 's "Dark Horse" -- as well as five other number-ones by Katy, including "Roar" and "Teenage Dream." Among his other hits: Taylor Swift 's "We Are Never Ever Getting Back Together" and "I Knew You Were Trouble," Kelly Clarkson 's "My Life Would Suck Without You" and "Since U Been Gone," Maroon 5 's "One More Night," Pink 's "Raise Your Glass" and, of course, more hits for Britney, such as "Hold It Against Me," "Oops!...I Did It Again" and "(You Drive Me) Crazy."
But Martin wasn't the only reason "...Baby One More Time" was a hit. The video, which made bare midriffs the scourge of mothers everywhere, and that provocative chorus, which at first listen made Britney sound like a battered woman, also helped.
"That certainly was attention-getting," Caulfield says of the "hit me baby, one more time" lyric. "But everything about the song and Britney at the time, and her music video -- which was her in sort of a schoolgirl outfit and dancing suggestively at times -- all of it was sort of meant to stir attention." He adds, "But really it came down to what was at the heart of it: a really great pop song."
A really great pop song, sung by a girl -- well, not a girl, but not yet a woman -- who had one of the most crazy-unique voices pop music had ever heard.
"Her vocals are so distinctive," says Caulfield. "It's hard to describe but when you hear her voice, you know it's Britney. When you hear Cher , you know it's a Cher song when you hear Cher singing, because it sounds like Cher, and Britney sounds like Britney."
Fifteen years down the road, Britney is a twice-divorced mother of two, but she's still charting hits, still releasing albums, and is currently packing in the fans in Las Vegas as the Strip's youngest-ever headliner. All in all, she's done well, considering that just six or seven years ago, some questioned if the "Princess of Pop" would become just another casualty of fame. Thankfully, the answer for now is no.
Copyright 2014 ABC News Radio