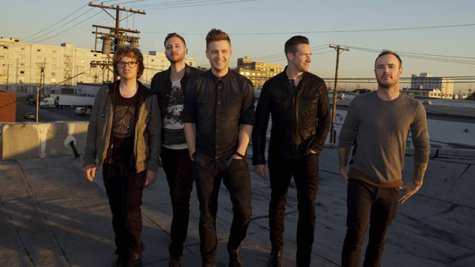 Even though it was released way back in June of 2013, it's only been in the last few months that OneRepublic 's "Counting Stars" has become a one of the biggest songs of the band's career, and a massive hit worldwide, from Albania, Finland and Poland, to Mexico, the U.K. and Germany. But maybe its international appeal isn't such a surprise, considering that frontman Ryan Tedder says the song is a mixture of several different ethnic sounds, and a few different musical genres, all rolled into one single.
"We finished that record in Greece, and so musically the energy and the vibe of it is Greek, I guess you can say," he tells ABC News Radio. "There's a harpist on there, there's an accordion player from Greece, then it's got Adele 's background singer singing on it." But wait, that's not all.
"It sounds almost like gypsy or Spanish," Ryan says of the song's melody and instrumentation. "The guitar riff is very -- somebody said the other day ' Mumford & Sons ,' which is hilarious because that's absolutely not what we were listening to! But it started as kind of...Spanish, if anything." OK, so "Counting Stars" is Greek, Spanish, and also folky, like Mumford & Sons. Oh, and it's like Adele, too. So, is that it? Nope.
"'Counting Stars' to me feels like Spanish [and] gospel," Ryan continues. "And then you got that...kind of analog synthesizer on it." In other words, it's a combination of organic, rootsy sounds and more poppy, electronic sounds: a melding of genres which OneRepublic says they specifically set out to do when they released their current album, Native. As it happens, those two genres are the two hottest musical trends right now, and mixing them together was pretty popular last year: just listen to songs like "Timber" and "Wake Me Up," for example
Says Ryan of the mixture that produced "Counting Stars," "Honestly, it wouldn't have happened in any time prior to 2013."
OneRepublic will be hitting the road in May for another North American tour, but meanwhile, the Colorado band has their eye on this weekend's Super Bowl; their Denver Broncos are taking on the Seattle Seahawks, and they're setting up a side bet. Ryan recently tweeted to rapper and newly-minted Grammy winner Macklemore , a Seattle native, "Yo...It's @Broncos vs @Seahawks . Whoever's team wins buys the other @redlobster ? We're in if u are."
Copyright 2014 ABC News Radio