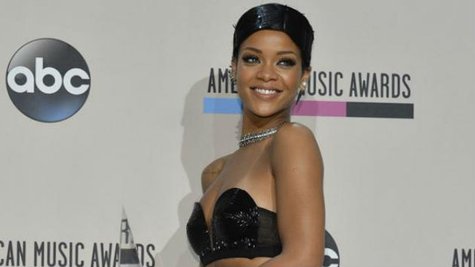 Rihanna won her eighth Grammy Award Sunday night during the non-televised pre-telecast. However, many fans wondered where the pop star was, since she was noticeably missing from the red carpet.
"I was at home and one of my friends hit me and said, 'You just won a Grammy,'" Rihanna revealed on Wednesday's Good Morning America. "And I was like, 'What?' ...It was quite an emotional moment, surprisingly. But I was in shock. I'm excited. It was a good feeling to still be that excited at this point in my career."
When she's not traveling -- Rihanna was recently spotted in Brazil, relaxing with best friend Melissa Forde -- the 25-year-old pop star is also using her celebrity for a good cause, as the latest spokesperson for M.A.C. Viva Glam. Rihanna's lipstick and lip glass just became available this month, and sales of the product support those affected by HIV/AIDS globally.
Rih Rih said she joined the campaign because M.A.C. doesn't condemn people for their life choices and she wants her fans to be more accountable for their actions . "They don't judge. They're not here to say, 'be perfect.' They want you to have fun as well as myself. I want you have fun. I love having fun, but you have to be responsible," Rihanna said.
During her sit-down with GMA anchor Robin Roberts , Rihanna also reflected on winning the first-ever Icon Award during the American Music Awards last year.
"I felt like I was dreaming. It didn't feel real. It still doesn't feel real because I feel like I have so much more to do," she said. "I mean, icon, that's such a big title. It's such a big thing to say or to even be said about myself. So now the pressure's on. I have to live up to that."
Copyright 2014 ABC News Radio