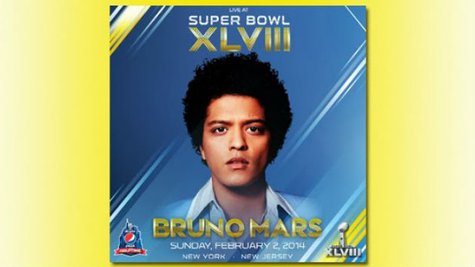 If you have no interest on betting on whether the Denver Broncos or the Seattle Seahawks will win the Super Bowl this weekend, perhaps you'd rather bet on what's going to happen during half time, when Bruno Mars and the Red Hot Chili Peppers take the stage. Well, the good news is, you can.
So called "prop bets," or novelty bets, have to do with things that will happen during the game that won't directly affect the outcome. Thanks to the magic of Internet betting, there are numerous prop bets available that are completely focused on Bruno and the Chili Peppers, and not any of that boring, like, sports stuff. For example, the betting site Bovada will let you bet on what Bruno will be wearing on his head when he takes the stage. Will it be a fedora? A fur hat, considering it's New Jersey in February? A knit cap, aka a "tuque?" Or no hat at all?
You can also bet on what song Bruno will perform first: the choices are "Grenade," "Just the Way You Are," "Locked Out of Heaven," "Marry You," "The Lazy Song," "Treasure" and "Gorilla." The site is giving the best odds to "Treasure" being the opening number.
Another bet is whether or not Bruno and the Chili Peppers will actually perform a song together on stage -- the odds of that happening are very good, according to the site -- and whether any member of the Peppers will be shirtless during their performance. Sure, it'll be freezing, but since the band normally perform shirtless anyway, right now, the site's offering odds that at least one of them will be.
You can also bet on whether or not Renee Fleming , the opera star who'll be singing the national anthem at the game, will leave out any words to the song, and what color her gloves will be. You can even bet on whether or not she'll be wearing gloves. Finally, you can bet on whether or not the half time show will break the viewing record for most-watched ever. That record is currently held by Madonna , who drew 114 million viewers in 2012.
Copyright 2014 ABC News Radio