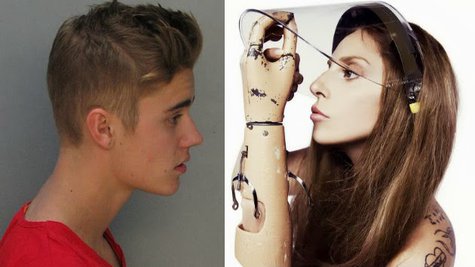 After Justin Bieber's arrest on Thursday, Lady Gaga apparently wanted to ensure sure that the singer's fans wouldn't be mocked by other artists' fans due to their idol's actions. She posted a note on her social networking site, LittleMonsters.com, calling for compassion. Her fans, however, rejected the notion, saying the Bieb didn't deserve it.
"Hey monsters. I know everyone today is taking about Justin's arrest and all sorts of words and judgements are happening on the Internet. Everyone is entitled to their own opinion, and to stand up for themselves, but I think we should be supportive of Beliebers," wrote Gaga in her note. "They deserve, just like any other fan, to feel strong for each other and Justin so they can continue to share the bond they have through music."
Gaga added , "We may not understand everything celebrities do because there's only so much we see, but Justin and Beliebers were 'born this way' too. Let's spread love and compassion to Beliebers today. That is what we are all about. Can you trend #MonstersSupportBeliebers ?"
Many fans, however, interpreted Gaga's comments as a call for them to extend their compassion, not only to Beliebers, but to Justin himself, an idea they were definitely not cool with.

"BORN THIS WAY? He was born to be violent?" one fan commented. Another wrote, "How can I support someone who was driving, after drinking and doing drugs, and could have injured or killed an innocent person? Gaga I adore you dearly but I'm not sure I understand what you're trying to say."
Another fan wrote, "I respect [Beliebers], and don't have anything against them, but I am NOT giving my support, because I strongly disagree with his and his fans' acts towards the situation." Still another chimed in, "I will not support them either. I was born this way. But I refuse to die that way #dontdriveundertheinfluence !"
"I understand that the beliebers are having a tough time, but it also doesn't help how vicious they can be towards non-fans..." noted another. "Love you Gaga, but I'm sorry, I won't help on this one."
Another fan summed up the situation by stating, "I support his fans, because I think it's very difficult for them, but I don't support him. He is a bad kid."
Copyright 2014 ABC News Radio