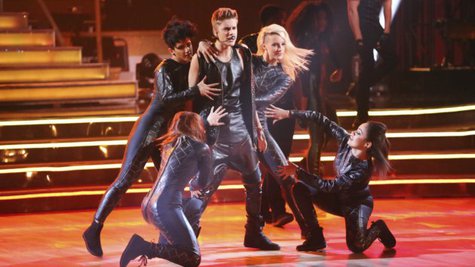 Justin Bieber has said many times that Michael Jackson is his musical idol, and that he identifies strongly with the late King of Pop. So perhaps it's no wonder that, following the events of the past 24 hours, that he'd also identify with the way that MJ was hounded by the world's media.
Justin's Instagram account now features a split screen black and white photo of himself and Michael Jackson. Justin's pictured waving to fans from the roof of an SUV as he left a Miami jail on Thursday, while Michael is pictured waving to fans while standing on the roof of an SUV, during the time of his 2005 child molestation trial. He was later acquitted of all charges. "'What more can they say'" reads the caption.
It appears that Justin is drawing a parallel between himself and MJ, in the sense that both of them were tried and convicted by the world's media before they'd had their day in court. Justin was arrested Thursday for DUI, driving with an expired license, and resisting arrest without violence.
An email to Justin's spokesperson asking whether the photo is a legitimate posting, as opposed to the result of someone hacking Justin's Instagram account, has so far gone unanswered.
Copyright 2014 ABC News Radio