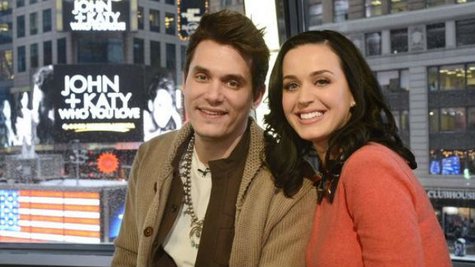 For the past couple of years, John Mayer has had to undergo various treatments to restore his voice, and at various times, he was forbidden to speak, or could only whisper. But he says that one thing that helped him get through those silent times was his girlfriend Katy Perry , who he says literally served as his voice.
Speaking to the The Hollywood Reporter, John says that during his recuperation, when he and Katy would go out to dinner with friends, "I whispered in her ear, and she would tell it to the table -- I had to rely on her comic timing, and she was pretty good." He adds, "I used to type in my iPhone and it would talk to her. I'd go to dinner with an iPad. In fact, I'm going to dinner right now with her and my iPad!"
John was speaking at the Luminary Awards, a gala event organized by the UCLA Department of Head and Neck Surgery. He was honored at the event and took the opportunity to praise one of the doctors, Gerald Berke , who played a huge role in his recovery.
"I still can't sing the way I used to; it's coming back so slowly," he said of his voice . "It keeps crawling out, crawling out, but I kind of like that. It's made me appreciate [it]; if it wasn't a gift before, it's a gift now." He says of Berke, "He gave it to me." To which Berke added, "He gave it to himself."
John also told The Hollywood Reporter that in February he'll start prepping for his next album, due out in 2015, and that this year he plans to cut back on touring. In addition, he says he plans to work again with his blues-rock band the John Mayer Trio , which features bass player Pino Palladino and drummer Steve Jordan.
Copyright 2014 ABC News Radio