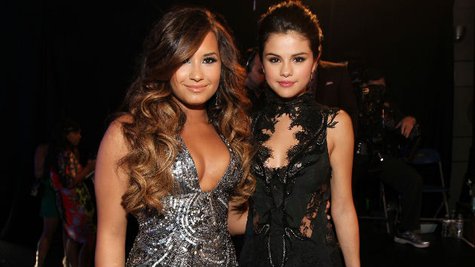 Selena Gomez and Demi Lovato are the best of friends, but there was a time not long ago when a breach in their friendship occurred. Now, Selena is telling Seventeen magazine that their friendship suffered because she couldn't deal with Demi's personal struggles.
Speaking to Seventeen , Selena says, "I've known her since we were seven -- and we did fall apart for a while. She was going through things and I was so young and it was confusing -- I processed it saying, 'OK, I don't understand what she's going through so I'm just going to do this .' And I don't think it was fair, and I'm so happy that I have her back in my life now." Selena, who's 21, is almost exactly one month older than Demi.
Regarding Demi seeking treatment for her physical and emotional issues and then choosing to discuss it openly, Selena adds, "I feel like we're all given what we can handle, and clearly someone thought she could handle so much -- and she could, and she did. And she's incredible for that. I couldn't imagine going through some of the things that she went through, and the fact that she is who she is today is insane -- she's one of my inspirations."
It also appears that Selena considers Demi, and not Taylor Swift, to be her BFF. She tells Seventeen , "Demi's very, very strong. She's the only person that I would tell the deepest, darkest secrets to. The only person."
You can read more in the March issue of Seventeen magazine.
Copyright 2014 ABC News Radio