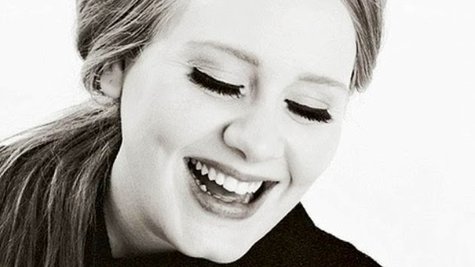 Since Adele herself won't say anything about the current status of her next album, fans have been reduced to searching for clues on their own. That's how some clever folks discovered that the singer has officially registered the title of what appears to be a brand-new song.
In the database of ASCAP, the performing rights organization , there's now a listing for a song called "Devil on My Shoulder," written by "Adele Adkins" -- that's Adele's birth name -- and Greg Wells, a noted songwriter who's written or produced material for everyone from Katy Perry and Aerosmith , to Elton John , Kelly Clarkson and OneRepublic . Notably, he co-wrote the song "One and Only" on Adele's album 21 .
Adele hasn't previously recorded a song by that title, which leads fans to assume that this is a brand-new track that the singer has written for her forthcoming album. Of course, it could be an old song that she never previously registered, too. Either way, the singer isn't saying.
So far, we've learned that OneRepublic's Ryan Tedder and hitmaking songwriter Diane Warren have both worked with Adele on songs for her album, and that producer William Orbit was also scheduled to collaborate with her. However, nobody knows exactly when said album may see the light of day.
Copyright 2014 ABC News Radio