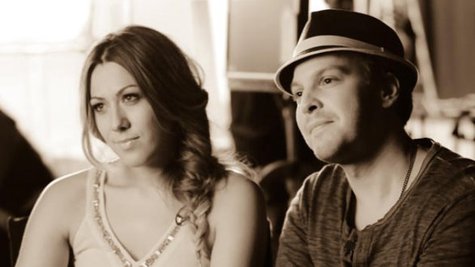 Gavin DeGraw has been releasing albums and touring the world for a full decade, but it's only now that he's received his first-ever Grammy nomination...and he has to share it with someone. Luckily, Gavin doesn't mind, because that someone is his good pal, Colbie Caillat .
Gavin and Colbie are nominated together in the category of Best Song Written For Visual Media for their duet "We Both Know," which was featured in the movie Safe Haven . Gavin says the fact that the song was nominated was very much unexpected, but he's "ecstatic" about it.
"When you sit down to work on something, [awards aren't] the first thing on your mind," he tells ABC News Radio. "You know, you're just kind of consumed with the project, with the art, with the song, with the idea."
"When you get these potential opportunities, it kinda blows outta the water your initial thought about what the life of the song could possibly be, you know," he continues. "It's a 'pinch yourself' kinda moment."
The fact that he received the nomination for collaborating with a friend like Colbie -- who already has two Grammys on her shelf -- makes the experience extra special, says Gavin.
"It's a reward for keeping in mind that there's a community of musicians here," he tells ABC News Radio. "You know, it's not just you being the Lone Ranger, or being an island unto yourself. It's about the community of musicians and the community of artists, all kind of working together, and, in my opinion, some of the best stuff happens when you're working with someone else -- magic happens."
Gavin and Colbie managed to create a magical moment together after they found out about the nomination: a couple days later, they both found themselves booked on the same holiday concert bill, which gave them the perfect opportunity to celebrate.
Gavin tells ABC News Radio, "We found a slot during my set where I could bring her out and introduce her and tell the audience that we've just been nominated for a Grammy together and perform 'We Both Know' together on stage in front of a live audience."
Gavin and Colbie have performed "We Both Know" together onstage numerous times, when they toured together a couple of summers ago. In fact, the two are so often seen together that it's no wonder that fans are constantly asking whether or not the two are romantically involved. "So many times!" laughs Gavin when asked whether fans bug him all the time about dating Colbie. "It's very endearing. But Colbie and I, we have an amazing relationship. You know, we are great friends, and we talk pretty regularly."
He adds, "We have a special bond, I think, just because as artists we understand what each one is going through...between record cycles and the great ups and downs of this roller-coaster ride of playing music for a living."
Gavin and Colbie are up against some stiff competition Sunday night at the Grammy Awards. Among the nominees: Coldplay , for their Hunger Games: Catching Fire song "Atlas"; Lana Del Rey , for her Great Gatsby song "Young and Beautiful"; and Grammy queen Adele , who will likely go home with the trophy for "Skyfall."
Copyright 2014 ABC News Radio