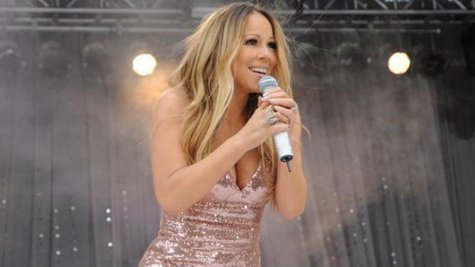 Fans have been wondering what the status is of Mariah Carey 's album The Art of Letting Go. It was supposed to be out last year, but it was delayed. Now, Mariah tells the website Showbiz411 that the disc will be out "spring, late spring," adding "This quarter." That would seem to indicate an April release.
Mariah also tells the website that she's planning to make a big announcement regarding the album on February 14, Valentine's Day. That's also the day that she'll be giving a private Valentine's Day concert at her home for a lucky winner and a companion. As previously reported, she's auctioning off the private show via the website Prizeo.com , to raise money for St. Jude Children's Research Hospital.
And here's one more tidbit about the disc: Mariah tells Showbiz411 that her new album will feature her versions of two older hits by other artists. Covers versions have always done well for Mariah: she had huge smashes with her versions of the Jackson 5' s "I'll Be There" and Harry Nilsson 's"Without You."
Copyright 2014 ABC News Radio