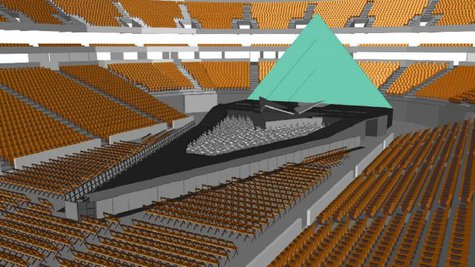 No matter how many times Katy Perry and Lady Gaga say that they don't appreciate their fans pitting one against the other, the fans just won't listen. The latest example: Katy is now being accused of "copying" the idea for the stage setup for her upcoming tour from Gaga.
Katy tweeted an image of the stage design, writing, "In celebration of tomorrow's PRISMATIC WORLD TOUR PRESALE may I exclusively present a SNEAK PEEK of my custom STAGE." The stage is shaped somewhat like an elongated heart, with seats for fans inside the heart, and a triangular piece over the stage. This immediately reminded some Gaga fans of the singer's stage design for her most recent tour , the Born This Way Ball, which featured a similar enclosed space-within-a-stage.
"STOP COPYING BTW BALL," tweeted one fan in response to Katy's posting, while another added, "stop copying Lady Gaga!" Yet another chimed in -- sarcastically, we assume -- "I love the monster pit!," which is what Gaga called that space on her tour.
A Katy fan came to her defense, writing, "I'm so sorry but she cannot hear you with the 49.000.000 katycats that are screaming her name right now! Ps:SHUT UP."
Of course, why these Lady Gaga fans bother following Katy Perry at all when they apparently dislike her is a question that nobody seems able to explain.
Copyright 2014 ABC News Radio