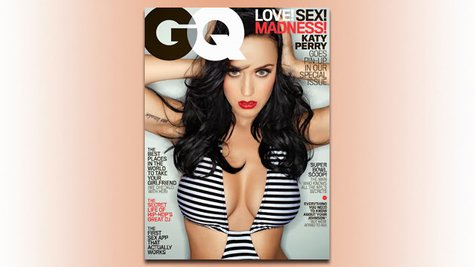 Katy Perry shows off her impressive cleavage on the cover of the February issue of GQ , and inside the magazine, she talks about how she specifically asked God for her "girls"...and was rewarded beyond her wildest dreams.
"I lay on my back one night and looked down at my feet, and I prayed to God," she tells the magazine. "I said, 'God, will you please let me have boobs so big that I can't see my feet when I'm lying down?' " When she was 11, Katy says, "God answered my prayers," but adds, "I had no clue they would fall into my armpits eventually."
Even so, Katy says she's proud of her body, which is untouched by any sort of surgeon's knife. "I've never had any plastic surgery," she tells GQ . "Not a nose, not a chin, not a cheek, not a [breast]. So my messages of self-empowerment are truly coming from an au naturel product."
Katy also briefly discusses her boyfriend John Mayer in the interview, and to hear her talk about, their relationship isn't necessarily going to lead to the altar. "I'm just having a wonderful experience with a wonderful guy. There's no rush," she says, explaining that the reason they broke up previously was that she "needed to grow up."
We also learn that Katy lost her virginity at age 16 in Nashville, in the back seat of Volvo sedan, while listening to the late Jeff Buckley's classic album, Grace . Among her other revelations: she believes in "a lot of" astrology, and in aliens as well.
"I look up into the stars and I imagine: 'How self-important are we to think that we are the only life-form?'," says the woman who recorded a hit song about falling in love with an extra-terrestrial. "I mean, if my relationship with Obama gets any better, I'm going to ask him that question. It just hasn't been appropriate yet."
Katy, who performed at some fundraisers for the president, jokes to GQ , "I might have won Wisconsin for him." She then admits, "Actually, I didn't do too much, but he called on me a couple of times. Which was very nice."
Copyright 2014 ABC News Radio