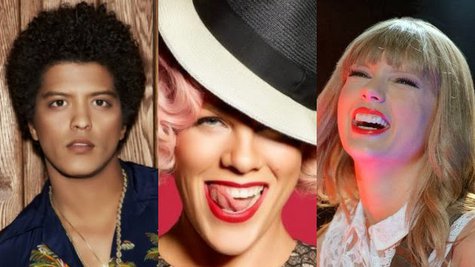 What do Bruno Mars , Pink and Taylor Swift have in common? In addition to being pop superstars, they are all nominated for Grammys this year for music that featured them doing the unexpected. Super-producer Jeff Bhasker , who worked with all three artists on their nominated projects, says he thinks that's one of the reasons they got the Grammy love.
Jeff co-wrote and produced Bruno's "Locked Out of Heaven" and Pink's duet with Nate Ruess , "Just Give Me a Reason." He also produced two tracks on Taylor's album Red. "I think that was a really common denominator in all these three artists...taking a risk, stepping out and doing something different, challenging yourself," he tells ABC News Radio.
Take, for example, "Locked Out of Heaven." When it first came out, it didn't sound like Bruno's previous work, and Jeff says that's why he was a little worried about it at first. "That was kind of like, 'Is this really going to be the lead single?'" he recalls asking himself. "It's so different and so far from innocent. And it didn't sound like anything else. There actually was kind of some trepidation."
But according to Jeff, Bruno insisted that they had a hit on their hands. "I give him all the credit for being like absolutely 100 percent sure that this was his lead single and it was going to be great," he says. "He knew it was great. It was just a bit risky. So for Bruno, to actually take it on and be like, 'This is going to be a number-one-for-six-weeks smash' was really amazing. And now to be nominated for Record of the Year -- it's awesome."
As for "Just Give Me a Reason," the risk was whether or not fun. frontman Nate Ruess, who co-wrote the song with Jeff and Pink, would agree to sing on it too. Why would he have hesitated? Jeff explains, "I think it was the beginning of fun.'s kinda smash success, so he was rightfully apprehensive to kind of step out and separate from the band. So there was kinda some convincing that had to be done." Of course, the result was a #1 hit. "I think in the end it worked out great for everybody," notes Jeff.
When it came to Taylor, Jeff says she made the decision that she was going to work with very pop-oriented producers like Max Martin on Red , and collaborate with artists who weren't the usual suspects, like Ed Sheeran , who at the time wasn't very well known in the U.S. "She followed what she wanted to do. So in that sense, going into kind of more pop realm was actually a risk for her, a big risk," Jeff notes.
Jeff believes that despite all her success, people -- including himself, he admits-- still tend to not give Taylor the respect she deserves as an artist. But he changed his mind when Taylor came into the studio and played him her songs. "It was crystal clear that she is a real force to be reckoned with," says Jeff. "And you know, maybe I underestimated her a little bit too and was pleasantly surprised."
Due to his involvement in these nominated hits, Jeff could win as many as three Grammys on Sunday night, which he can add to the three he's already won for working with fun., Kanye West and Jay Z.
Copyright 2014 ABC News Radio