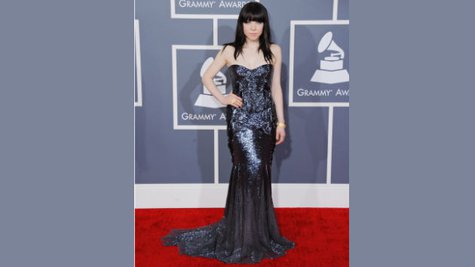 Being a first-time nominee at the Grammy Awards is a nerve-wracking experience for any artist, but Carly Rae Jepsen , who went through that very thing last year, says focusing on the fact that you're at the Grammys, surrounded by stars you've always admired, is almost as good as winning.
"I was surprised and honored to be nominated at all. So to me, it was more about taking in the night, and just getting to be there with my fam[ily]," Carly tells ABC News Radio. "I did have a magic moment and that was meeting Melissa Etheridge , who was to my left...I have, like, the biggest musical crush on her ever! And she was actually one of the first concerts I ever went to. So I got a picture with her, and she was very charming to me, so I felt lucky!"
Another thing that distracted Carly from being nervous about winning? She had arranged for her entire family to accompany her to the event, as well as a few friends. "I was just stressed out!" she tells ABC News Radio. "It was like almost like a Christmas decision where you decide it's gonna be wonderful, but you're like, 'My dad doesn't know where his ticket is! My sister ripped her dress!' so I was more kinda worried about them."
Carly was nominated for two Grammys last year: Song of the Year and Best Pop Vocal Performance, both for "Call Me Maybe." She lost to, respectively, fun. 's "We Are Young" and a live version of Adele 's "Set Fire to the Rain."
Copyright 2014 ABC News Radio