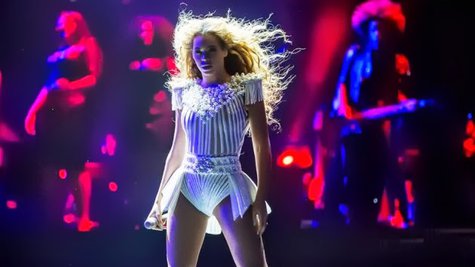 Beyoncé helped the first lady of the United States, Michelle Obama , celebrate her 50th birthday at the White House on Saturday night.
Details regarding the party have been kept private, but Beyoncé performed at the event, and she posted onto her Tumblr account several photos of herself at the White House, including a few that also feature her two-year-old daughter, Blue Ivy . There's a cute snapshot of Blue Ivy interacting with the Obamas' new dog, Sunny .
Incidentally, Blue Ivy recently celebrated her own birthday, and B commemorated that occasion on Tumblr, too, posting a photo of a mini Ferrari and mini Cadillac gifted to her child.
Beyoncé has strong ties to President Obama and his wife. She performed "At Last" at the 2009 Inaugural Ball, when Mr. and Mrs. Obama danced for the first time as president and first lady.
Beyoncé also famously sang the national anthem at Obama's inauguration ceremony last year. She later admitted she sang along to a pre-recorded track following accusations that she lip-synched the performance.
A variety of artists sang "Happy Birthday" to the first lady at her 50th birthday bash. Other celebrities in attendance included Smokey Robinson , James Taylor , Samuel L. Jackson and Rachel Ray .
According to People magazine, Paul McCartney and his wife, Nancy Shevell , were there, too. A source says, "Sir Paul didn't allow many people to come between him and his bride. He came to party!"
Michelle Obama turned 50 on Friday.
Copyright 2014 ABC News Radio