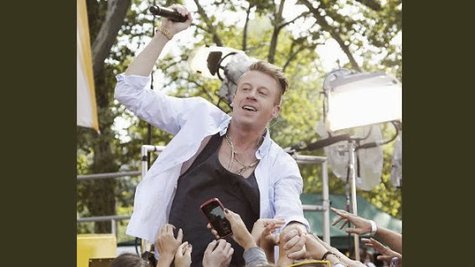 Macklemore & Ryan Lewis will be spending this Sunday supporting their hometown football team, the Seattle Seahawks, who are taking on the San Francisco 49ers for the NFC Championship.
The rap duo will perform during halftime at the game at Seattle's CenturyLink Field; the game will air live beginning at 6:30 p.m. ET on Fox. If the Seahawks win, they'll be headed to Super Bowl LVIII to play the winner of Sunday's AFC Championship contest between the New England Patriots and the Denver Broncos.
This year's Super Bowl will take place on February 2 at MetLife Stadium in East Rutherford, New Jersey, with Bruno Mars and the Red Hot Chili Peppers as halftime entertainment.
Before Macklemore & Ryan Lewis take the stage, the national anthem at the game will be performed by fellow Seattle native Ann Wilson , frontwoman for the legendary rock band Heart .
In other Macklemore news, the duo will be performing an intimate show for 1,400 fans at the Belasco Theatre in Los Angeles on January 23, three days before the Grammy Awards. The concert is sponsored by T-Mobile, whose CEO John Legere is such a fan of the duo that he crashed a private party in Las Vegas where the duo was performing. Why couldn't he simply get an invite? Because the sponsor for that party was AT&T.
"My appreciation for Macklemore and Ryan Lewis seems to be the worst kept secret in the social hemisphere," said Legere in a statment. "Their ability to shake things up and keep it real for their fans is a lot like the Un-carrier moves we've been making in the wireless world, so I'm really excited to team up and present this special performance for all of their fans."
Tickets for that show are on sale now.
Copyright 2014 ABC News Radio