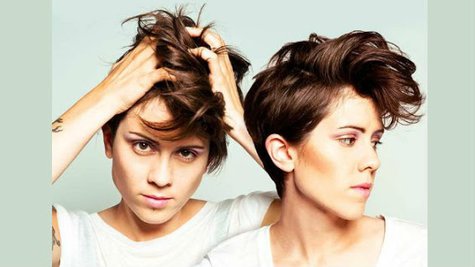 If 2013 was big for Tegan & Sara , 2014 promises to be even bigger. Following the news that they've been tapped to open a round of dates on Katy Perry 's Prismatic world tour, the Canadian duo has now announced that they'll be part of not one but two upcoming movie soundtracks.
The first one, The LEGO Movie, is the first full-length theatrical Lego adventure, and it features the voices of Will Ferrell , Elizabeth Banks , Liam Neeson and Morgan Freeman . For that soundtrack, Tegan & Sara have teamed up with The Lonely Island -- that's Andy Samberg 's comedy group -- for a song called "Everything Is Awesome." That movie hits theaters February 7.
The second soundtrack is the one for Endless Love , a remake of a 1981 romantic drama that originally starred Brooke Shields . The new version arrives February 14, and stars Alex Pettyfer and Gabriella Wilde . The duo have contributed the previously unreleased track "Don't Find Another Love" to the film.
As previously reported, Tegan & Sara will be part of Amnesty International's Bringing Human Rights Home benefit concert at Barclays Center in Brooklyn, NY on February 5, along with Imagine Dragons and The Fray . In March, they'll be one of the acts setting sail with Paramore for that band's Parahoy! fan cruise. They're also confirmed for a number of festivals, including the Hangout Music Fest, Suburbia Music Festival and the Firefly Festival. The Katy Perry dates will come in September and October.
On top of all this, the duo has selected the follow-up to their hit "Closer:" it's a track called " I Was a Fool. "
Copyright 2014 ABC News Radio