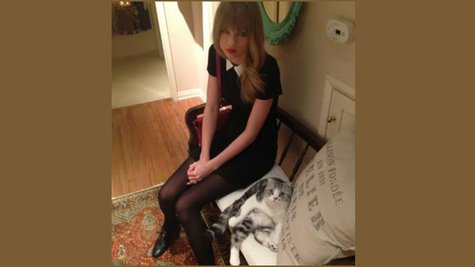 Taylor Swift doesn't spend a lot of time on Twitter, but when she does tweet, she usually makes her tweets funny or memorable. And while she has more than 30 million Twitter followers, Taylor says that's because when it comes to social media, she's careful not to over-share -- mostly, she claims, because her actual life, well, isn't all that interesting.
Speaking to Teen Vogue , Taylor explains, "I'll tweet maybe once every two weeks. I don't want to seem like I always have my phone out looking for the next thing to upload. One of the most important things about social media is knowing when to put the phone down and experience your life." She adds, "If I were to tweet what I'm doing every minute, all you'd get would be pictures of me watching TV with my cat, and you'd be depressed for me!"
Taylor also talked to Teen Vogue about her new collection for Keds footwear, which she says is inspired by her own wardrobe. "There's a lot of lace, polka dots and stripes because those are the things I wear all the time!" she explains. But above all, she keeps it classic. "I don't usually follow trends," she says. "I try to wear things that I can look back on in 30 years and be happy about!"
That was a lesson she learned the hard way, as the singer reveals that she regrets some of her early fashion choices. Like what? "I never got to go to prom," she admits. "So when I was younger, I wore prom dresses on the red carpet or to awards shows."
Copyright 2014 ABC News Radio