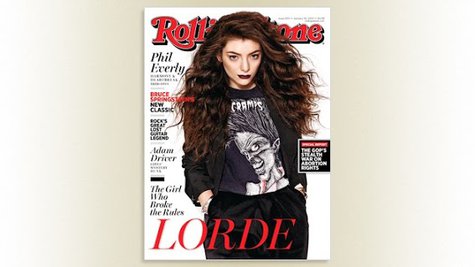 Lorde has a message for everyone: she's in charge, and don't try to convince her otherwise. The 17-year-old singer, who graces the cover of the new issue of Rolling Stone says, "I think my whole career can be boiled down to one word I always say in meetings: strength."
According to Lorde, whose birth name is Ella Yelich-O'Connor , she's "always been into the idea of confidence," telling Rolling Stone , "I called my record Pure Heroine . Even my stage name is kind of cocky and grandiose. I get paralyzingly nervous a lot of times, so I tried bravado." But now, it's her confidence that allows her to make the right choices in her career, even though so-called "adults" may think they know better.
"I've totally learned in this process that 99 percent of the time your gut is right, and you know what's right for you. I know exactly what's right for my career and for my art," she explains in a video posted on RollingStone.com . "And sometimes, even if the whole room is saying, 'Don't do that, don't do that,' you know that doing that [thing] is going to be good for you, in the long run."
Lorde's confidence also extends to her image, making sure she stays true to herself when it comes to things like photo shoots. She tells Rolling Stone that during a recent shoot -- not for Rolling Stone -- "The photographer kept saying, 'pop your hip out. Try to look cute. Big smiles, now.' And I was like 'I am number one in this country not because I flirt and wink and all that s**t, but because I've done exactly what I want to do.'"
"So no, he did not get smiles," she adds.
Obviously, all this is working for Lorde, so what would be her advice to other young people who want to pursue careers in music?
"My advice...is to really spend your time making music. Make so much music you have no friends," she laughs. "Figure out what it is you love...because if you're making cool art, then everything else will fall into line. If it's good enough, if it's cool enough, if it has enough emotion in it, people will listen, and people will love it."
You can read the entire interview with Lorde when the new issue of Rolling Stone arrives on stands. It features an in-depth look at her childhood, and her reaction to the racially charged online hate she experienced after a photo of her hugging her boyfriend was posted online.
Copyright 2014 ABC News Radio