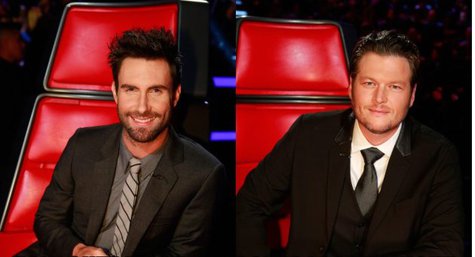 The mutual love/hate relationship that Adam Levine and Blake Shelton have on The Voice is one of the reasons people continue to tune into the show. Now, Blake pokes fun at their competitive bromance in an exclusive new comic video for People.com , in which he reveals a supposed "gift" that Adam sent him.
In the video , Blake tells fans that he's been M.I.A. since the finale of The Voice , so he just wants to check in by answering a few fan questions. One of those questions is this: "Are you and Adam really as competitive as you act like you are and does he rub it in when he beats you at anything?" After the reading the question aloud, Blake says, "Hit it!" and a garage door before which he's standing slowly starts to rise, revealing a massive reproduction of the cover of Adam's "Sexiest Man Alive" People cover. It's taller than Blake.
"Ladies and gentleman, today I received a package from Adam Levine and I think this answers that question," Blake continues. "This is why Adam Levine is a complete jack*ss, and it's also why I love him so much."
There will be more Blake/Adam hijinks come February, when The Voice returns for its sixth season.
Copyright 2014 ABC News Radio