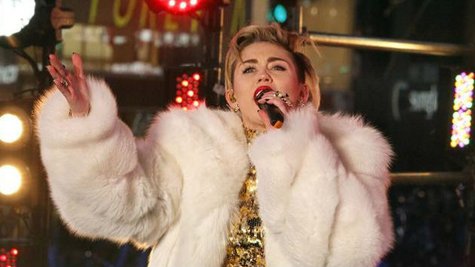 Their performance at the MTV Video Music Awards made them Pop Culture Public Enemy #1, so it's no surprise that both Miley Cyrus and Robin Thicke have been nominated for the annual "Villain of the Year" award by Britain's influential music publication, NME . What is surprising, however, is that One Direction 's Harry Styles is competing for the same award.
Other than having artfully messy hair, reportedly dating numerous women and allegedly breaking up with Taylor Swift, it's hard to say exactly what Harry did to be branded a villain -- unless NME , which mostly covers rock music, is disparaging his musical talent. Or perhaps they're just jealous.
Others competing for the Villain award include British Prime Minister David Cameron , Russian President Vladimir Putin , and comedian Russell Brand who, coincidentally, also has messy hair, has dated numerous women and has broken up with a chart-topping pop princess: Katy Perry .
One Direction is also nominated for Worst Band, along with The Wanted , Imagine Dragons , 30 Seconds to Mars and British acts The 1975 and Muse .
So who does NME lik e? Well , Lorde and Kanye West are both nominated for Best Solo Artist, Kanye's up for Best Album, and Daft Punk is up for Best Track, for "Get Lucky."
The awards will be presented February 26 in London.
Copyright 2014 ABC News Radio