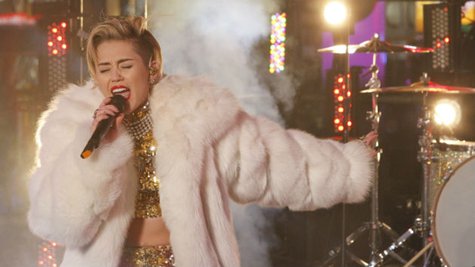 When you go see Miley Cyrus on her Bangerz tour, which kicks off on Valentine's Day, you may not have to shell out as much for merchandise as you might think. Turns out the singer plans to offer her fans stuff for free during the course of the show.
According to the Hollywood Reporter, Miley told reporters in a conference call that she'll be "giving lots of junk away," at each date, adding, "This is my mom's worst nightmare, because I always hoard things from when I go to concerts... all the kids always want to keep the confetti, but I want to give them real things to collect." Miley didn't specify exactly what it is she'll be giving out. Let's hope it's not giant foam fingers.
Miley also revealed that the design concept of the tour is "literally based on animals," including sketches by John Kricfalusi, who created Ren & Stimpy . Miley says she became friendly with him over dinner not long ago, and that he'll be providing sketches of "imaginative animals he's made on his own." In addition, Miley says the show will have massive video screens, and she'll enter and exit the stage on some sort of "spectacular prop," though she didn't reveal what that might be.
As for what Miley will be wearing, the good news is that clothes are involved. Among the designers who provided looks for each section of the show: Marc Jacobs , Jeremy Scott and The Blonds . There will also be archival pieces from Bob Mackie , best known for his fashion creations for Cher .
Miley also says that most of the set list will be made up of material from Bangerz , and she'll try to bring out special guests to join her, especially those who worked with her on the album. She will also do acoustic renditions of some tunes, as well as covers.
Copyright 2013 ABC News Radio