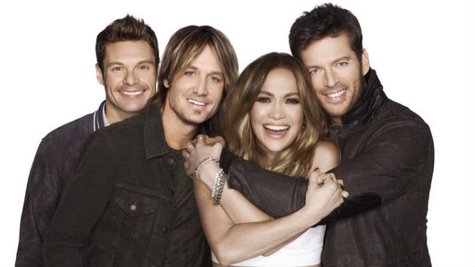 American Idol began its 13th season Wednesday night on Fox with auditions in Boston, Massachusetts, and Austin, Texas.
The show unveiled its new panel -- Keith Urban , Jennifer Lopez and Harry Connick, Jr. -- as well as a new wrinkle to the auditions round: "The Chamber." We saw some of the contestants enter the small room to prepare before meeting the judges.
Here are some of the highlights from Wednesday's two-hour episode:
The show got things started right away with a look at Marrialle Sellars , whose tryout was actually in Detroit. She performed Bruno Mars ' "Grenade" on her acoustic guitar. Harry said she will be a "nightmare" for the other contestants. J-Lo said Marrialle had a nice tone, which she wasn't expecting. Marrialle earned a golden ticket, and then the show posted a graphic asking if she'll become the next "American Idol."
Troy Durden , 29, twerked for the panel before delivering a soulful rendition of "Over the Rainbow." At the request of the judges, he then sang and twerked at the same time. We'll see him again.
The panel was on the fence over 16-year-old Stephanie Hanvey , who sang the Jessie J hit "Price Tag." The general consensus was that her vocals needed more work, but they liked her composure. After a lengthy pause, they passed her through.
Morgan Deplitch , 15, was even younger than Stephanie. Given her age, Harry was a little concerned about the sexually-charged lyrics in her song choice, Grace Potter & the Nocturnals ' "Paris (Ooh La La)." Nevertheless, she advanced, too.
Another teen, Austin Percario , earned votes of confidence from the judges after his performance of David Guetta 's "Titanium." Urban said he sounded like how Justin Bieber would sound if he sang at 5 a.m.
Kaitlyn Jackson , 15, belted out an original song, "Another Angel," which she wrote just before her grandfather passed away. Kaitlyn lamented the fact that her grandfather was never able to hear the song, but Harry told her he was listening to her audition from heaven. Kaitlyn will be back.
Keith London , 21, put an acoustic spin on Katy Perry 's "Roar." J-Lo said she liked the song even more after hearing Keith's stripped-down version. Harry wasn't as enthusiastic, calling it "OK." Keith received a golden ticket.
Twenty-two-year-old hairdresser Madelyn Patterson cruised to the next round after singing "Up to the Mountain (MLK Song)."
Malcolm Allen played his "air guitar" as he sang the Stevie Wonder classic "Superstition" a cappella. He's moving on in the competition.
Rolando Guerrero broke down in tears upon meeting Jennifer Lopez. She graciously gave him a hug, but any goodwill he built up dissipated when he butchered her tune "Hold It Don't Drop It." He was sent home.
Harry was ecstatic when he found out Munfarid Zarid reads Harry's Wikipedia page every night before he goes to sleep. Before Munfarid's performance of Adele 's "Crazy for You," Harry hugged him; afterward, he cradled him in his arms. Munfarid got the golden ticket.
At the end of the episode, we saw Keith celebrate the fact that his most recent album, Fuse , hit #1 in three countries.
The auditions continue Thursday night with another two-hour episode that begins at 8 p.m. Eastern time on Fox.
Copyright 2014 ABC News Radio