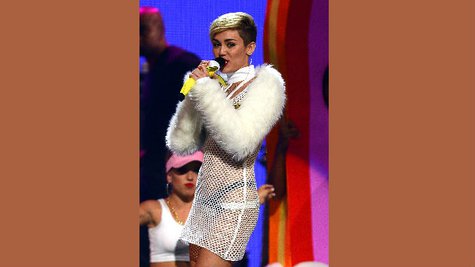 Since Miley Cyrus spent most of 2013 naked, and the rest sporting a number of scandalous outfits, you'd think that her mom would've spent the past twelve months having quite the nervous breakdown. But Tish Cyrus says really, there was only one thing her daughter wore last year that she didn't approve of...and no, it wasn't her birthday suit in the "Wrecking Ball" video.
Speaking to E! , Tish says that she wasn't a fan of the outfit Miley sported at a music festival in Las Vegas: a see-through white mesh dress, with nothing underneath but tiny black panties and black pasties covering her nipples. "That's the only one I really didn't like," she told E!.
Miley's sister Brandi confirms her mom's version of events, adding, "I was there for that and there was some tension."
But that doesn't mean that Tish is uptight or anything. For example, she says she really wanted to be the one to kiss Ryan Seacrest at midnight on ABC's Dick Clark's New Year's Rockin' Eve , not Miley. "I wasn't there, or I would've been the Ryan kiss," she joked to E!. "I guarantee it. He just settled for Miley 'cause I wasn't there."
Copyright 2014 ABC News Radio