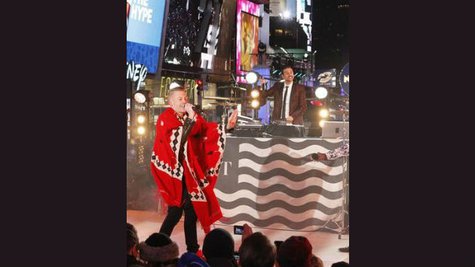 What would you do if you were on a bus, and suddenly a Macklemore & Ryan Lewis concert broke out? You'll find out by watching a new Grammy promo starring the nominated duo.
In the spot, Macklemore and Ryan Lewis nonchalantly board a New York City bus, with Macklemore pulling a hoodie over his distinctive haircut. Then, Ryan stands up with a boombox, presses a button, and the music for "Can't Hold Us" starts. Mack pulls his hoodie down, revealing himself, and starts hyping the crowd, getting everyone to clap along as he performs the song and he and Ryan throw paper towels everywhere. Eventually, all of the bus passengers are on their feet, clapping, smiling and grooving to the song.
At the next stop, the two thank the bus driver and exit the vehicle, as startled people on the sidewalk recognize the stars and wonder what just happened.
It's not clear if the spot was truly a surprise performance, or if the entire thing was staged. It ends with the tag line "Music Unleashes," which is the name of this year's Grammy promotional campaign.
Macklemore & Ryan Lewis are nominated for seven awards at this year's Grammys, which air January 26 on CBS.
Copyright 2014 ABC News Radio