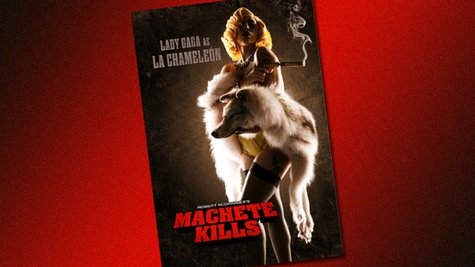 The annual announcement of the Razzie nominations, celebrating the worst in film, inevitably includes nominations for the big-screen performances of singers attempting to make the jump into acting -- or those who do both, but may not be particularly good at it. This year is no exception.
Lady Gaga branched out into movies this year with her role in the ultra-violent action thriller Machete Kills , playing one incarnation of an assassin known as The Chameleon. She's been rewarded -- if you can call it that -- with a Razzie nomination for Worst Supporting Actress.
Chris Brown , who's appeared in several movies in his career, has been nominated for Worst Supporting Actor for his role in Battle of the Year, a little-seen 3D movie about a dance competition that came out this past September.
Finally, Selena Gomez, who started out as an actress and ostensibly knows what she's doing, has been nominated for Worst Actress for Getaway, an action thriller in which she co-starred with Ethan Hawke.
The Golden Raspberry Foundation will announce the Razzie winners on Saturday, March 1, the night before the Academy Awards. And if we're very lucky -- again, if you can call it that -- we'll be able to see next year's Razzies broadcast on TV. They've launched an Indiegogo crowd-funding campaign to raise the $34,497 they say it'll take to make it happen. As of Wednesday morning, the grand total raised so far was $55. As of Wednesday afternoon, that total had soared to $110.
Copyright 2014 ABC News Radio