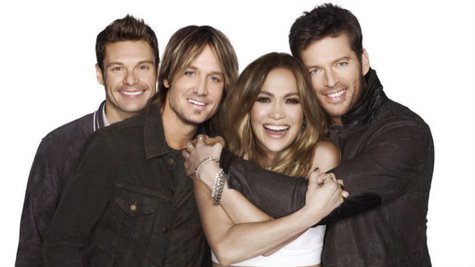 If you were turned off by all the drama and infighting that surrounded American Idol last season, Ryan Seacrest has a message for you: the show you loved is back.
"For those parents and kids -- families -- who watch the show throughout the years, their American Idol 's back on this year," the host tells ABC News Radio. "I mean, this is a show for everybody. There is an electricity between all the judges, there's this incredible respect for one another, and they're really good at picking out talent. They've picked some great guys and girls."
Season 13 of American Idol gets underway Wednesday night at 8 p.m ET and continues Thursday night with auditions from three different cities, and don't expect at lot of those cruel moments where obviously deranged, untalented people have their dreams crushed by mean judges. "I believe that you'll smile, you'll laugh, you'll feel good watching this show," Ryan promises. "And that's what we're excited to show everybody."
While there have been some tweaks to the format of the show, including the addition of a round called "Hollywood or Home," and another sequence called "Rush Week," for most viewers, the biggest change will be the people who are, and aren't, sitting at the judge's table. For the first time since the show began, Randy Jackson will be missing from the panel: instead, he'll be a mentor. And Ryan tells ABC News Radio that it's been kind of hard for him to get used to not seeing Randy's face in the audience.
"It's strange for me. Randy will be on the show -- he'll be working with the contestants during the week when they prepare for their performances -- but y'know, we've been joined at the hip for so many years, so it's definitely strange," Ryan reveals. "But knowing that he's around makes me feel good."
Those who are sitting at the table this year include last year's holdover Keith Urban , the returning Jennifer Lopez and Harry Connick Jr. , who's been promoted to judge after getting raves as a guest mentor.
"Frankly, by looking at those tapes...when we were talking about who should be on the panel, his name kept surfacing at the top of the list because he was so good when he was a guest," Ryan tells ABC News Radio. "Harry is one the smartest people in all of music and so...watching him during the auditions, you learn something about music, and I think viewers will do that as well."
Harry himself says that the musical knowledge he brings to the table is a key element of this year's show.
"I think you have to be spontaneous but you have to be specific," he says of his judging style. "You can't tell people, 'I didn't like it' and not tell 'em why. And it's hard to do that if you don't have a whole lot of background in actually playing an instrument or singing or performing. But that's what I do, so it's very easy for me to pull from personal experience on why people maybe aren't doing as well as they could, and maybe what could help them get to the next level."
The new kid also gives props to his fellow judges, saying, "Jen and Keith are incredibly well qualified to be sitting up there. I mean, they're superstars, they're incredible talents. So, hopefully the three of us will provide something really fresh and exciting."
As for the returning J-Lo, who judged season 10 and season 11 before taking a year off, she says the best part of the show for her is, ultimately, the contestants, who over the season morph from insecure unknowns into stars. As she puts it, "Seeing them kind of transform from that first tentative audition...to becoming unafraid, and then really trying to go for that pot of gold at the end of the rainbow...It's just a beautiful thing to see."
Copyright 2014 ABC News Radio