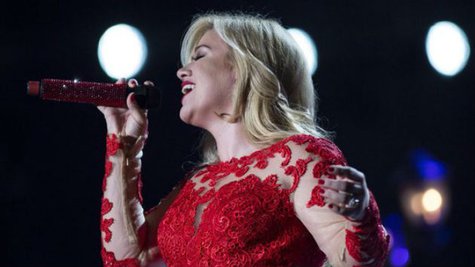 As the new season of American Idol gets underway this week, Forbes has taken the time to examine the bank accounts of the show's alumni to see which one is really the most successful -- at least, when it comes to money. Surprisingly, Forbes found that many of the show's biggest earners weren't always the ones who actually won.
However, that rule doesn't apply to the woman who has the #1 spot on Forbes' list: Carrie Underwood . The season four champ has raked in an astonishing $31 million just in the past year. That's thanks to her endorsement deals and her extensive tours, as well as her best-selling albums. Number two on the list is Kelly Clarkson , the original American Idol champ, who earned $7 million in the past year, mostly due to touring, plus the release of a greatest hits disc.
Tied at #3 are one guy who didn't win: Adam Lambert , the season 8 runner-up; and one who did: season 11 champ Phillip Phillips . They both earned five million bucks in the past year. Phillip's money came from sales of his successful singles like "Home" and "Gone Gone Gone," as well as extensive tours with John Mayer and Matchbox Twenty . As for Adam, he's still pulling in the cash for live gigs.
Number five on Forbes ' list is a guy who came in fourth on season five: Chris Daughtry , who made $4 million last year thanks to a heavy touring schedule with his band Daughtry . Number six is season 10 champ Scotty McCreery , who earned $3 million last year from album sales and touring. Number seven on the list is season 5 champ Taylor Hicks , who's cashed in with a Las Vegas residency and his own restaurant.
Season three champ Fantasia Barrino and season five sixth-place finisher Kellie Pickler are tied in eighth place with $1.5 million; Fantasia gets her money mostly from album sales, while Kellie gets hers from touring and, in the past year her Dancing with the Stars victory.
Rounding out the list are season three finalist Jennifer Hudson and season five runner-up Katharine McPhee , both of whom have found success as actresses as well as singers. Both earned a million bucks in the past year, Katharine mostly from her role on Smash , and Jennifer from the movies she's made, and her endorsement deals.
Forbes ' list examined income figures from June 2012 through June 2013.
Copyright 2014 ABC News Radio