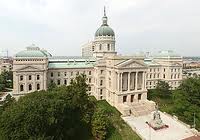 In November, Indiana voters may be asked to add the right "to engage in the agricultural or commercial production of meat, fish, poultry, or dairy products" to the state constitution. The bill's sponsors say that it will keep non-farmers, including national animal rights groups, from meddling in the state's rural interests.
It could also help shield large industrial dairies, feedlots, and slaughterhouses from environmental and food safety regulations.
Much of the drive behind the amendments has come from big corporations who operate mega farms that sometimes fall victim to animal rights groups and others who sneak on site and video how animals are being treated.
Those who are against the amendment say that mega corporate farms often have large manure pits and can ruin the country side, contaminate wells and cause other more serious problems.
They also say that if the amendment passes, people who live next to agricultural pollution will have even fewer options for recourse.