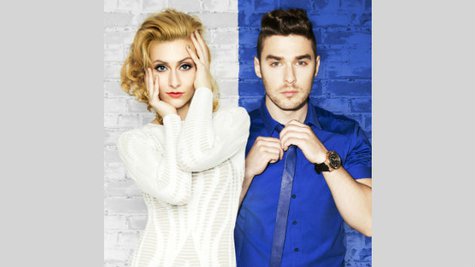 K armin returns with a brand-new single, "I Want It All," which will be out January 28. They'll perform the song live on TV for the first time on Live with Kelly & Michael on February 6; a lyric video for the disco-flavored tune is now available on YouTube .
The single is from their debut full-length album Pulses, which is due out this spring. Even though the duo -- engaged couple Amy Heidemann and Nick Noonan -- had their breakthrough hit in 2012 and have released an EP, they're only now getting around to putting out an official album. The day after the single arrives, they'll kick off their #PulsesTour in Baltimore, Maryland. Right now, the trek is scheduled to run through February 22.
In other Karmin news, Amy has been cast in the upcoming animated film sequel Rio 2 , which comes out April 11. Bruno Mars also has a part in the film, which continues the story of those two blue macaws, Jewel and Blu. They now have three kids, and are heading for the Amazon, where they encounter a variety of strange creatures No word on which part Amy plays.
Copyright 2014 ABC News Radio