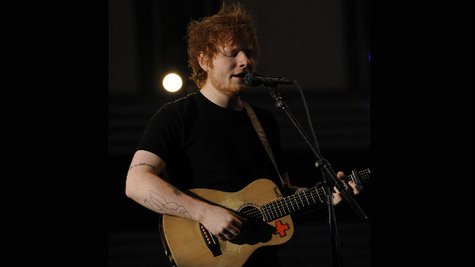 Ed Sheeran has announced a tour of the U.K. and Ireland for 2014, but hasn't given any details about his new album. But the singer now says that new music is coming soon: just be patient.
Speaking to London's Capital FM , Ed says that his plan is to "start dropping music a couple of weeks from now, probably with just a live YouTube video." However, he notes, "It won't be the main single. The main single will come after that, but I wanted to start teasing people with new music, and then come with the serious slice of the pie in a couple of months."
While Ed has already said that his pal Taylor Swift won't be on the new album, he tells Capital FM, "I've worked with a lot of interesting people on it." But that doesn't mean the album will feature collaborations on every track -- as Ed explains, the process consisted of "mostly just writing by myself in bathrooms and hotel rooms."
Meanwhile, Ed seemed to drop a huge hint as to the title of his new album by tweeting out the "equals" sign (=) on Monday. Since Ed's debut was called + (plus), and he's already said he wanted another non-traditional title, many fans assumed that "equals" was it. However, he didn't confirm anything.
It remains to be seen whether we'll get any new Ed music before the singer appears on the Grammy Awards on January 26. He's nominated for Best New Artist, and he says unlike last year, when he was up for Song of the Year, he's not going there expecting to win.
"I got nominated last year and kind of got my hopes up a little bit," he tells Capital FM . "So I just know now not to get my hopes up, and just go and enjoy the ceremony. I think Macklemore will probably win it, but I'm gonna go and network and have fun and enjoy Los Angeles."
Copyright 2014 ABC News Radio