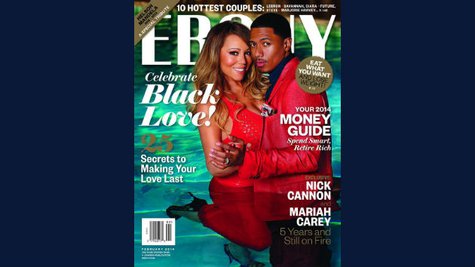 Mariah Carey 's forthcoming album The Art of Letting Go will be a real family affair: in addition to herself, her kids and her husband all sing on it, too.
Speaking to Ebony magazine for its new cover story, Mariah says that twins Monroe and Moroccan, plus hubby Nick Cannon , lend their vocal stylings to one particular track on the record, which is due out in the spring. "It's so sweet, [they'll] have this for the rest of their lives," says Mariah, adding that she wants the kids and Nick to join her on tour so they can all sing the song -- whose title is still under wraps -- live on stage. It would "mean so much," adds the diva.
In the Ebony cover story, Mariah and Nick also talk about their marital bond, which they say has been strengthened by the arrival of the twins. "All the love you have for each other is manifested into these two incredible beings," explains Mariah. But it's not all about the kids; as the couple approaches their sixth anniversary, they're all about keeping things spicy in the bedroom.
"We are very playful," reveals Nick, while the magazine reports -- T.M.I. alert! -- that Mr. and Mrs. Cannon are proud members of the Mile High Club. Of course, that's easy to do when you can afford a private jet. In addition, according to Ebony, Mariah has a "closet full of sultry lingerie and Agent Provocateur fur pumps." "It's not like we're [a pair of] Goody Two-Shoes," the singer tells the magazine.
But perhaps the most surprising way that Mariah expresses her love for Nick is by...cooking. Apparently, according to Ebony, there's nothing she enjoys more than whipping up Nick's favorite dish: smothered pork chops and pecan pie with homemade cinnamon whipped cream. "I love taking care of him," she tells the magazine, even though, she says she knows that "most people don't buy it."
Mariah also reveals her favorite body part of Nick's. "He has a gorgeous face...and I love the shoulders, of course, and the upper back," she says. Asked to name Mariah's sexiest body part, Nick says, "I would definitely say the legs. From the toes all the way up!"
You can read the couple's entire interview in the February issue of Ebony , on newsstands now.
Copyright 2014 ABC News Radio