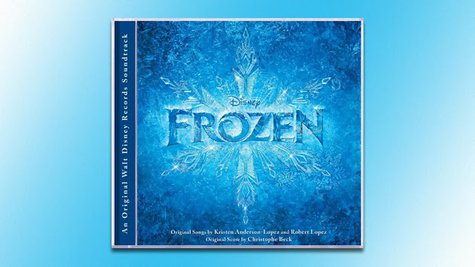 The Disney animated film Frozen has been going strong at the box office ever since it was released last November, and now its soundtrack has matched that success. The Frozen soundtrack has dislodged Beyonce's self-titled album from the top spot on the Billboard album chart, where it's been for the past three weeks. And in doing so, the soundtrack has made a bit of history.
Frozen is the first soundtrack from a Disney animated film to hit #1 in almost 20 years; the last one to do so was Pocahontas , back in 1995. What's more, it's only the fourth animated movie soundtrack to hit #1 since 1956, when Billboard began publishing a weekly album chart. In addition to Pocahontas and Frozen , the other two #1 soundtracks are Curious George , from 2006, and 1994's The Lion King .
Frozen features songs performed by the movie's cast, which includes Broadway and Glee stars Idina Menzel and Jonathan Groff , as well as Kristen Bell and Josh Gad , the latter of whom plays the loveable and goofy snowman, Olaf. For Gad, the soundtrack was a reunion of sorts. He first became a star after appearing on Broadway in the hit musical The Book of Mormon, which had songs co-written by Robert Lopez . He and his wife, Kristen Anderson-Lopez , also composed the songs for Frozen.
"For Bobby and I to work together again could not have been more serendipitous and more fun," Gad tells ABC News Radio, adding, "I think that the work that they've done in this movie will go down in that canon of incredible Disney musicals...people will be singing these songs and listening these songs for many years to come."
In addition, Gad, who sang some unbelievably raunchy songs in Book of Mormon, is happy that he's finally created something his young daughter can enjoy. "To be able to do something like this -- because God knows, my daughter can't listen to the Book of Mormon soundtrack -- is really incredible," he laughs.
Frozen is a musical fantasy about two sisters, the elder of whom has the power to create snow and ice. They become estranged after the older sister fails to control her power, and disaster follows. It's earned nearly $300 million since its release and last weekend, it topped the box office. Gad thinks that's because it features themes that everyone can relate to.
"I think that it's rare that you can see a film that can make you laugh and cry to the extent that Frozen does," he tells ABC News Radio. "I think it offers an incredible story about what it means to have a sibling that you deeply care for, as flawed as that relationship may be, as difficult as some of the trials and tribulations of that can be."
Copyright 2014 ABC News Radio