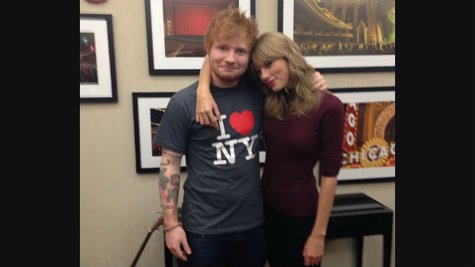 Fans who were hoping for a sequel to the Taylor Swift / Ed Sheeran duet "Everything Has Changed" won't be happy to hear that Taylor does not appear at all on Ed's upcoming album. Why? For Ed, it's a case of "Been there, done that."
Speaking to London's Capital FM , Ed says, "I didn't work with Taylor on the album purely for the fact that we've done that already. We've already done a song, and I don't know if that would surprise anyone if that happened."
That element of surprise is apparently what the Grammy-nominated Brit is going for on the new disc, and he feels that having Taylor join him, would just be more of the same old, same old.
"We're always going to perform together, we're always going to write together, we're always going to hang out," Ed explains. "I just felt for this record, I wanted to make a record that would surprise people and keep them intrigued. And I've already done a song with Taylor within the last two years, so I don't know if anyone would be too shocked by that."
So far, there's no release date for Ed's album, but it's expected to come out long before Taylor's next disc, which is due at the end of this year. If you want to hear Ed singing with a female singer/songwriter, wait 'til March, when Christina Perri 's new album head or heart arrives. He's recorded a duet with her for that project.
Copyright 2014 ABC News Radio