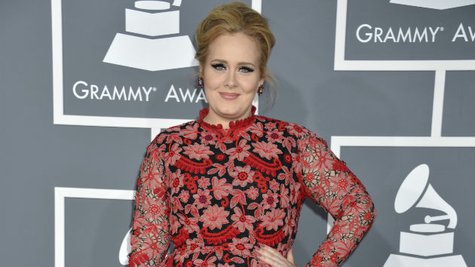 It's the multi-million-dollar question for the music industry: will Adele release a new album this year? There's no official word on a release date for the project, but according to one of her collaborators, she definitely plans to create new music of some sort this year.
William Orbit , the famed producer who collaborated with Madonna on her landmark Ray of Light album and other discs, and who's since gone on to work with Britney Spears , Pink and Ricky Martin , said in an interview that Adele's next on his list. Speaking to M Magazine in November, Orbit revealed, "I know I'll be doing some writing with Adele in the new year."
Of course, it's not known whether the result of that collaboration will ever see the light of day, but the very fact that Adele is reaching out to co-writers seems to indicate that her third album is in the works. Last year, OneRepublic's Ryan Tedder , who won a Grammy for his work on Adele's previous album, 21 , also said that he had met with her about new material.
The woman herself, of course, is keeping quiet about her plans. Meanwhile, 21 just keeps selling. Rolling Stone reports that the disc has become the first-ever album to sell over three million copies digitally. Of course, it's sold millions more physical copies since its release in 2011.
Copyright 2014