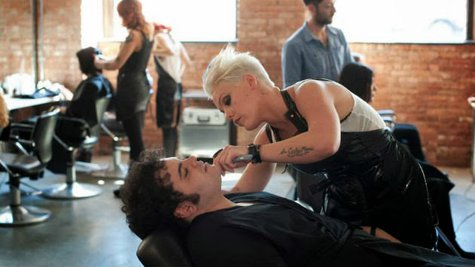 If you didn't get a chance to see Pink show off her acting chops this past year in the movie Thanks for Sharing , the movie arrives on DVD and Blu-ray on Tuesday. And according to her co-star, acting is something that the singer -- who was billed under her birth name of Alecia Moore for the film -- should definitely continue to do.
In the movie, Pink plays a sex addict named Dede who attends a 12-step program to try to kick her addiction. While there, she meets and bonds with Neil, played by Josh Gad. Gad, who can currently be heard providing the voice for Olaf the Snowman in the smash Disney film Frozen , thinks Pink was great in the movie, and held her own against veterans like Gwyneth Paltrow , Tim Robbins and Mark Ruffalo .
"Alecia is one of the most gifted artists I've ever met. I think that the sky is the limit for her. She is a natural," he tells ABC News Radio. "She really just resonates. She pops off the screen and I think she should absolutely keep doing this."
In a series of behind-the-scenes interviews about the movie posted on RollingStone.com , the movie's director says he and movie's co-writer specifically created the part of Dede with Pink in mind, but they never thought she'd actually take the part. When she agreed to consider it, they were thrilled, and when she made everyone cry during her audition, she clinched the part, despite her inexperience.
"For me to go on stage and perform in front of 30,000 people – I could do it with my eyes closed. It's what I do," Pink says in the interview. "I can sing the same song with the same emotion 48,000 times and people are like, 'Wow, how does she do that?' But I get on a film set and I don't even remember how to talk!" She adds, " "I'm a newbie, so I sit behind the camera and just watch...these people are so talented. It's just incredible to watch."
Pink showed her appreciation for the experience on her last day of shooting by baking cupcakes for the entire crew.
Despite her promising acting talent, the singer doesn't have another movie lined up...yet. She'll finish up her Truth About Love tour this month, and also will appear at the Grammy Awards on January 26, where she's up for several trophies for her hit duet with Nate Ruess , "Just Give Me a Reason."
Copyright 2014 ABC News Radio