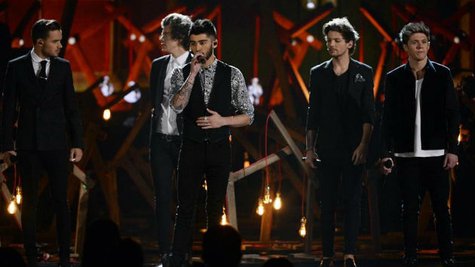 Hey, did you hear that Harry Styles loves the Jewish religion and Jewish culture so much that he's teaching himself Hebrew? Sounds kind of unbelievable, right? That's because it's not true -- we think.
The British tabloid the Daily Mail quoted Ben Winston , the man who directed One Direction's video for "The Story of My Life," as saying of Harry and the group, " He loves the Jewish community...All the boys love Judaism. They are fascinated by it and they enjoy the family atmosphere. .. Over the years they have become part of our family really and are interested in what we do....They've definitely embraced a Jewish way of life, that's for sure."
The tabloid then went on to quote "insiders" who claimed that " Ben has been helping [Harry] with Jewish cultural tips," and that Harry is teaching himself to read and write both Hebrew and Yiddish.
But when a fan tweeted Winston a link to the article and added the word, "Amazing," he replied, "Not really that amazing. Quotes I never said taken from interviews over a year ago!"
The interview in question turns out to be one Winston did with U.K.'s Jewish News last August. He is quoted in that interview as saying exactly what the Mail claims he said; however, his tweet seems to indicate that he felt that he was misquoted.
By the way, there have been rumors in the past that Harry is Jewish because he's mentioned Jewish holidays in his tweets, but his father attempted to lay those rumors to rest by tweeting last year, "No idea where any rumors came from in but, categorically, he is 0% Jewish. Not at all."
Copyright 2013 ABC News Radio