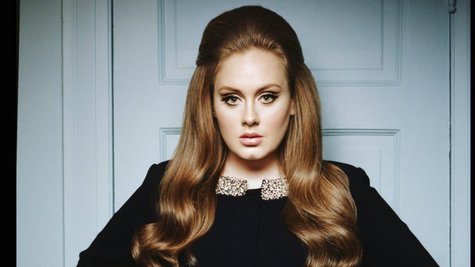 Perhaps visiting Buckingham Palace recently to receive her MBE medal from Prince Charles has put Adele in a royal mood. A well-known British artist tells a British tabloid that the singer has purchased a portrait he painted of Kate Middleton , Duchess of Cambridge, aka the wife of Prince William .
The artist, Darren Coffield , is famous for painting " upside down " portraits of famous figures, such as Marilyn Monroe , Pablo Picasso , Cary Grant and others. He tells the British tabloid the Daily Star, "It's my ironic take on celebrity that made Adele come in to see my work. I did [a portrait of] Kate Middleton and I'm sending that to her."
Coffield further claims that Adele wants to see more of his work hanging in her home. "She was asking whether I would take a commission to paint her or maybe someone in her family," he tells the paper. "I was actually going to do a portrait of her anyway but didn't get around to it."
Asked how he'd portray Adele in such a painting, Coffield said, "I don't know how I'd do her, but probably not receiving her medal."
Copyright 2014 ABC News Radio