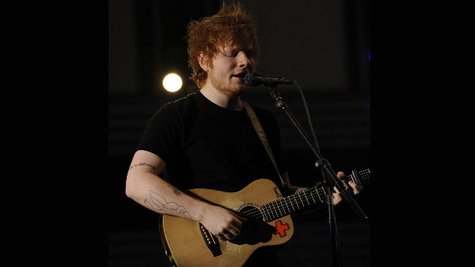 It's no secret that Ed Sheeran is going to release a new album in 2014, so it's not surprising that, via Twitter, the singer is promising an "announcement" on Monday, January 6. The singer also told his fans via Twitter that he's "adding a last minute song to the album."
Ed worked on the disc with legendary producer Rick Rubin, who's been behind the board for everyone from the Beastie Boys, Jay Z and Kanye West , to Adele , the Dixie Chicks and the Red Hot Chili Peppers . In early December, Ed tweeted that he was "finished" with the record and posted a photo of himself with Rubin on Instagram.
It's also possible that the announcement concerns a tour, since his manager tweeted recently that on January 6, Ed would have "UK/Ireland news."
When Ed's new album does arrive, it'll be the follow up to his best-selling 2011 debut + . Since that came out, he's found worldwide fame, toured and duetted with Taylor Swift , headlined New York City's Madison Square Garden, been nominated for several Grammys and received critical acclaim.
Copyright 2014 ABC News Radio