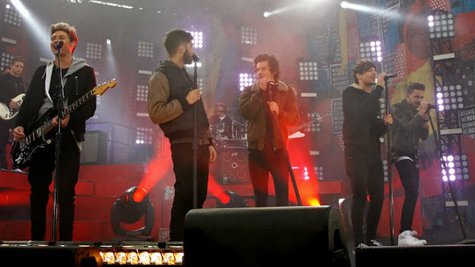 One Direction is launching a massive world tour in 2014 and if all goes well, the trek could very well earn enough cash for it to rank among the biggest of all time, alongside tours by such legends as U2 , The Rolling Stones and Madonna .
According to Forbes , 1D currently plans to play 65 shows in stadiums around the world. With an average attendance of 55,000 fans per show, and tickets going for, on average, $88, Forbes calculates that the Where We Are Tour will pull in more than $300 million when all is said and done: $314,600,000 to be exact. That would put it at number nine on the all-time top-10 list, just below The Rolling Stones' Voodoo Lounge tour of the mid-nineties, and just above Bruce Springsteen 's recently-concluded Wrecking Ball tour.
Forbes says it's impressive that 1D, a band that's been around for fewer than five years, could tour at this sort of level. Furthermore, the website points out that most of the top-10 tours on the list had far more than 65 shows on their tour. For example, the #1 tour on the list -- U2's 360 Tour -- lasted for 110 shows. If 1D's tour lasted for 110 shows, the Where We Are tour would rise to #3 on the all-time list.
One Direction's tour starts in April in Colombia, and arrives in the U.S. in early August.
Copyright 2014 ABC News Radio