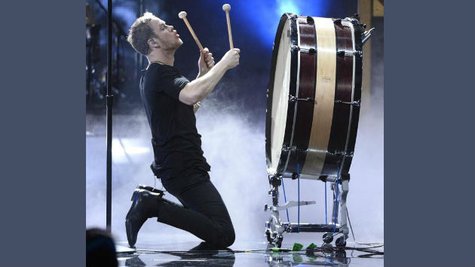 While Imagine Dragons got some attention in 2012 thanks to their hit "It's Time," 2013 was the year their career really blew up, and they closed out the year with several Grammy nominations. Lead singer Dan Reynolds says he's now experienced first-hand that old saying about how people treat you differently after you became famous -- even members of your own family.
Speaking to the Las Vegas Review-Journal , Dan says, "The weirdest moment I have had was when I went home for a day to go to the dentist's office, and my aunt came in and asked me for an autograph." He laughs, "This is my Aunt Shelly. You know what I mean? This is the lady who wiped my nose when I had snot on my face at Christmas. I was, like, 'Why are you asking me for my autograph?'"
In the same interview, Dan reveals that the band almost decided to leave the song "Radioactive" -- one of their big hits -- off their debut album Night Visions .
"We experimented with a lot of different sides of Imagine Dragons. Some were darker than others. Some were lighter than others," Reynolds explains. "One of the darker, more edgier songs was 'Radioactive.' [But] we ended up deciding, 'Let's show different sides of the band.' I'm glad we did that. Otherwise, we wouldn't have had the album we've had."
According to Dan, Imagine Dragons has already written "a ton" of new songs for their next album, and they're now converting a house in the Las Vegas hometown into a studio so they can write even more material. As of yet, there's no planned release date for the follow-up to Night Visions.
Copyright 2014 ABC News Radio